Anyone wishing to purchase a quilt, or commission a quilt, please contact me by email.
Carol Spalding Quilting Fabric Artist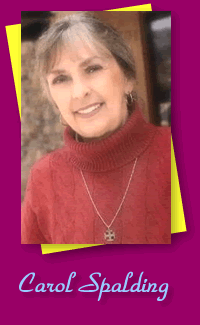 I began my artwork as a painter, using oils and acrylics. Once I discovered the quilting world, I gave up the paints in exchange for expressing myself through fabric, loving the textures and dimensions that it offered. I lived many years in the Sierra Mountain area and from their scenic beauty I drew much inspiration. A recent move has brought me to a new mountain area, the Blue Ridge Mountains of Virginia, which is a gorgeous setting for my new studio.
Most of my current work is appliqué. I draw my designs on full size paper then transfer them to muslin, which I hang on a flannel design wall. I audition my fabric, pinning bits and pieces to the muslin, sometimes leaving them for several days while deciding whether or not they suit my design intent.
My appliqué work is done in both raw edge (by machine) and turned under (by hand) appliqué depending on the desired effect, and I usually combine both methods. I work from photographs of both figures and landscapes, other times the starting point of a quilt is a single event or thought. Either way I express my painter's point of view, using fabric instead of paint to reproduce a scene.
Work has appeared in the following:
Books
Design a Baltimore Album Quilt by Elly Sienkiewicz
Dimensional Appliqué by Elly Sienkiewicz
Places and Faces by Charlotte Warr Anderson
Focus on Features by Charlotte Warr Anderson
Magazines
Quilter's Gallery
Appliqué Quilts #32 feature article
Miniature Quilts